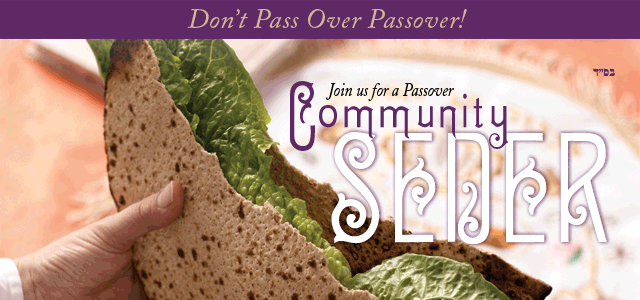 Join us for an enchanting Passover Seder!
Join Chabad Jewish Center of 
Holmdel
 for an enchanting Passover Seder.
Experience the liberation and freedom of Passover.
Relive the Exodus, discover the eternal meaning of the Haggadah, and enjoy a community Seder complete with hand-baked Matzah, wine, and a wonderful dinner spiced with unique traditional customs.
Explore the Kabbalistic insight on the number four: Four cups of wine, four sons, four questions and four types of freedo
First Seder Night: Friday, April 19, 7:15 pm
At 2 Spring Valley Drive Holmdel NJ
Couvert: Adults $36, Child $18 Sponsor $360 (No one turned away due to lack of funds)
All are welcome regardless of background or affiliation. Kindly RSVP by April 10th.
For more information please call Chabad at: 732-772-1998
E-mail: info@jewishholmdel.org